Dr. Christopher Reid is a microsurgeon on faculty at UC San Diego.
1. Tell us a little bit about yourself. Who is Christopher Reid?
I'm a native San Diegan who spent all my training here in San Diego. Prior to getting involved in medicine, I owned and operated a screen-printing & graphics company, but got the educational bug and never looked back. I did manage to leave San Diego, if only for a year, and went far away to UCLA. I rejoined the mothership in July, as Assistant Professor of Surgery & Director of Medical Student Plastic Surgery Education. My practice at UCSD is centered around reconstructive microsurgery; including breast, lower extremity and head & neck. Additionally, I have a general plastic surgery practice.
My most important priorities and accomplishments are my two beautiful daughters (11mo and 3yrs) and my amazing wife.
2. What are your research interests?
My research interests include surgical education as well as outcomes research in plastic surgery.
3. What are your goals as a member of PSRC?
My interest in PSRC is to become inspired by the work of others and contribute new ideas and innovations.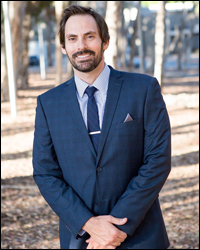 ---