---
Under-represented In National Conference Leadership: Black/African-american, Hispanic/Latino, And Female Leadership Is Still Needed In Plastic And General Surgery
Naikhoba C.O. Munabi, MD, MPH
1
, Eloise Stanton, BA
1
, Christian Jimenez, BA
1
, Katelyn Kondra, MD
1
, Yun Ji KIm, BA
1
, Eva Williams, MD, MPH
1
, Alex Wong, MD
2
, A.Lyonel Carré, MD, MPH
2
.
1
Keck School of Medicine of USC, Los Angeles, CA, USA,
2
City of Hope, Los Angeles, CA, USA.
PURPOSE: U.S. Census data reports that women, Black/African-American (BAA) and Hispanic/Latino (HL) individuals account for 50.8%, 13.4%, and 18.5% of the general population, respectively. Per the American Medical Association, these same populations are under-represented in medicine, particularly surgery. Plastic surgery (PRS) residencies have become more inclusive to women and minority physicians, but diversity in leadership positions remains unknown. This study evaluates the prevalence of women, BAA, and HL surgeons in leadership roles at plastic surgery compared to general surgery (GS) national conferences.
METHODS: Retrospective review was performed of national PRS and GS conference leadership between 2016-2019. Conference leaders were defined as moderators, panel or keynote speakers, or administrators. For PRS, all AAPS, PSRC, ACPA, and ACAPS conference leaders were included. For GS, an equivalent number of leaders per year at the American College of Surgeons Clinical Congress were reviewed. Internet search was used to determine ethnicity (BAA, HL, or non-underrepresented in medicine (non-URM)), years in training, gender, and fellowship training. Data were collected in Excel and statistical analysis performed in SPSS.
RESULTS: 579 PRS and 628 GS conference leaders were included. Compared to GS, fewer PRS leaders were female (20.7% vs 33.4%, p<0.0001). PRS leaders were less commonly BAA (2.2% vs 7.2%) or Hispanic (1.7% vs 2.5%, p<0.0005, Figure 1), and tended to be earlier in their careers (18.8 vs 22.5 years, p<0.001). Female leaders had less experience than male counterparts within both PRS (16.7 vs 19.4 years, p<0.05) and GS (18.5 vs 24.5 years, p<0.001). Female GS leaders were more likely to be fellowship trained (77.6% vs 68.4%, p=0.016) but equivalent to male leaders in ethnicity and conference role. In PRS, ethnicity, leadership role, years in practice, and fellowship training did not vary between genders. For both PRS (p=0.381, Figure 2) and GS (p=0.481, Figure 3), BAA, HL, and non-URM leaders were equally as likely to hold different conference roles.
CONCLUSION: Additional efforts are needed to increase visibility of BAA, HL, and female leaders in PRS and GS. More female leaders may appear with time; women currently are more junior in their careers. The pathway to increased ethnic diversity in conference leadership is less clear. As PRS works to improve diversity in the field, care should be taken to promote representation at all levels, including in leadership roles on the national conference stage.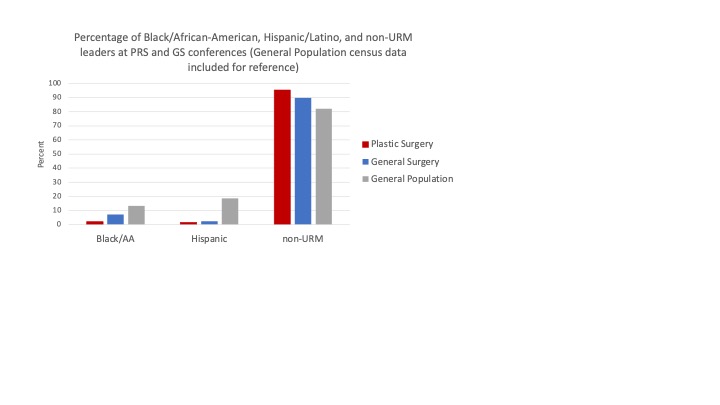 ---
Back to 2022 Abstracts