---
Neonatal Compartment Syndrome - Case Report And Review Of The Literature
Abra H. Shen, BS
1
, Ruth Tevlin, MB BAO BCh, MRCS, MD
1
, Matthew D. Kwan, MD
2
, Oscar H. Ho, MD
2
.
1
Division of Plastic and Reconstructive Surgery, Stanford University School of Medicine, Palo Alto, CA, USA,
2
Kaiser Permanente Santa Clara Medical Center, Santa Clara, CA, USA.
Purpose:
Neonatal compartment syndrome is a very rare condition. Early diagnosis and timely surgical intervention are paramount to optimize outcome. Time to fasciotomy is the most important prognostic factor. Many cases are misdiagnosed leading to long term sequelae including Volkmann's contracture, limb length discrepancies, and nerve lesions. The purpose of this study is to describe a case presentation of neonatal compartment syndrome and to perform a literature review.
Methods:
A 3kg female was delivered by vacuum at 40w3d gestation with no congenital anomalies present. Perinatal course was complicated by maternal chorioamnionitis and a compound presentation with the neonate's fingers palpable on cervical examination at 24 and 4 hours prior to delivery. At 2.5 hours of life, the patient had notable swelling of the right forearm, non-blanching erythematous lesions of the volar and dorsal forearm in addition to a 1cm x 1cm volar wrist bulla (Figure 1A). At 4.5 hours of life, further volar forearm bullae developed (Figure 1B), resulting in plastic surgery consultation. The patient's clinical presentation was suggestive of a sentinel skin lesion, concerning for neonatal compartment syndrome. Emergent fasciotomies of the forearm and hand were performed.
A literature review for published cases of neonatal compartment syndrome was performed using PubMed. Cases were analysed for key diagnostic features, management, and suspected etiology.
Results:
A total of 60 patients were identified from 26 studies (Table 1). Most infants were diagnosed within the first 24 hours of life. The majority of patients were managed operatively. All patients presented with a sentinel skin lesion, emphasising the importance of this clinical sign in diagnosis. Manometry was not performed in the majority of cases with authors citing that this modality is inaccurate in this demographic. Associated etiologies included intrauterine compression, thromboembolic disease, and malpresentation. Three cases of neonatal compartment syndrome associated with a compound presentation are described.
Conclusions:
Neonatal compartment syndrome is a very rare diagnosis that requires early recognition in the delivery room and emergent fasciotomy. The sentinel skin lesion is a key diagnostic finding. Manometry is not routinely performed and there are no standards available for acceptable pressure gradients.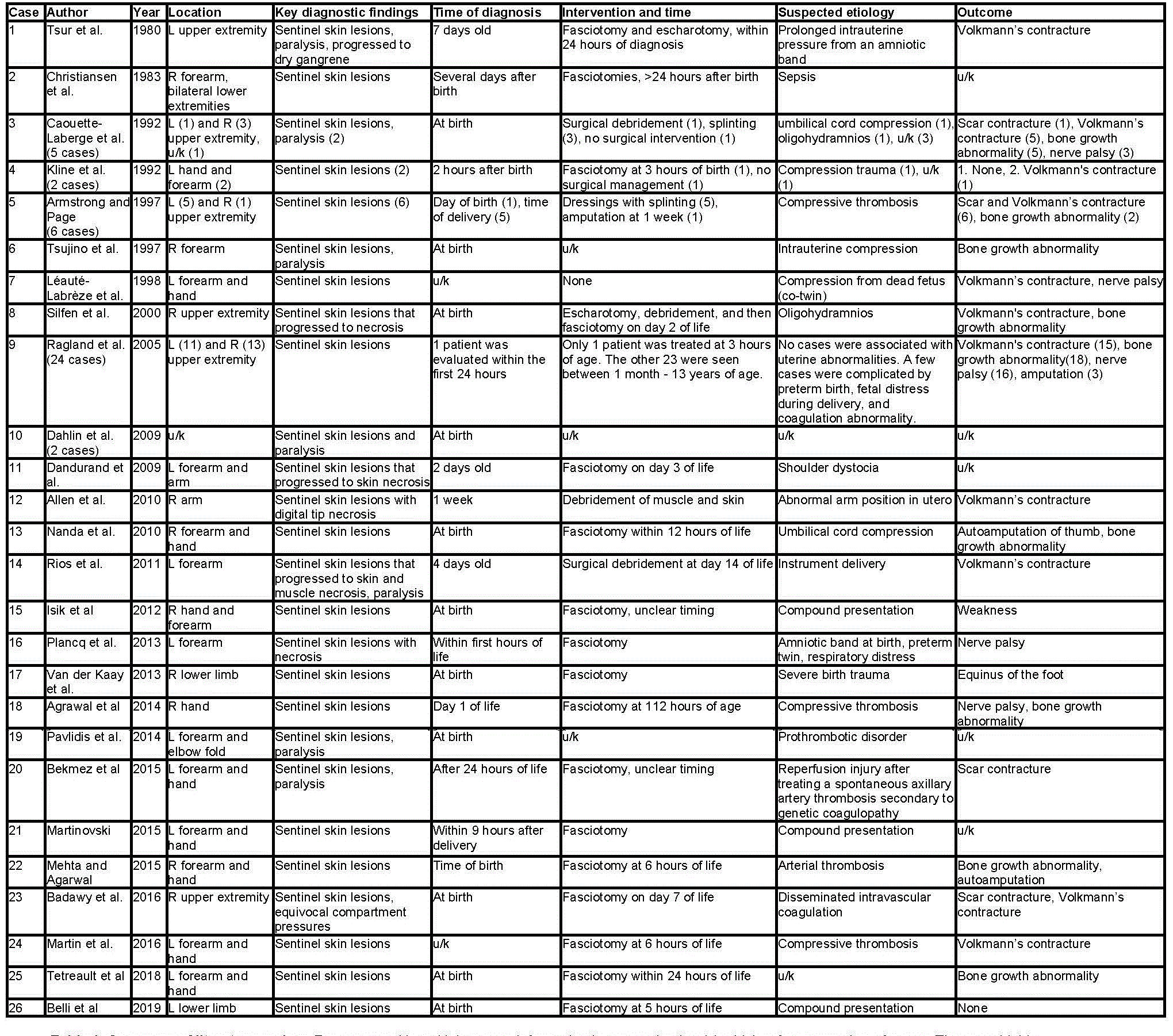 ---
Back to 2020 ePosters