---
Pediatric Mandibular Condylar Fractures With Concomitant Cervical Spine Injury: A Treatment Protocol For Prevention Of Temporomandibular Joint Ankylosis
Fady P. Marji, MD
, Erin Anstadt, Alexander Davit, MD, Jesse Goldstein, MD, Joseph Losee, MD.
University of Pittsburgh Medical Center, Pittsburgh, PA, USA.
Purpose:
In pediatric patients with cervical spine injury (CSI), the estimated incidence of associated mandible fractures is 3.5%. The condyle is the most commonly injured component of the pediatric mandible. In pediatric patients with mandible fractures and concomitant CSI, treatment strategies may occasionally compete: condylar fractures require functional therapy with range of motion (ROM) exercises of the temporomandibular joint (TMJ), while CSI requires neck immobilization.
Methods:
The authors report the case of a 10-year-old male presented with polytrauma after swinging on a swingset, when the transverse assembly beam fell on to his face, causing his cervical spine and mandibular injuries. Computed tomography imaging demonstrated severe bilateral comminuted condylar head fractures (Fig. 1A) and an oblique right parasymphyseal fracture with displacement (Fig. 1B). Magnetic resonance imaging of the cervical spine demonstrated severe ligamentous injury to the upper cervical spine with alanto-occipital dislocation and alanto-axial instability. He underwent posterior cervical fusion, and was fitted with a custom Miami-J cervical collar which was worn for 6 months. In addition, he underwent open reduction and internal fixation of the right parasymphyseal mandibular fracture and a short course of mandibulomaxillary fixation (MMF) with arch bars for condylar rest prior to ROM functional therapy with guiding elastics.
Results:
After protracted cervical immobilization in his Miami-J collar, the developed a gradual decline in the ability to open his mouth. He was lost to follow-up and did not return until 3 years after his original injury because of inability to open his mouth. On examination, his interincisal opening was only 2 mm, and repeat imaging demonstrated complete bony TMJ ankylosis (Fig. 1C). The patient required multistage condylar reconstruction.
Conclusion:
We suggest an alternate protocol for the pediatric patient presenting with condylar fractures requiring functional ROM therapy and concomitant CSI requiring immobilization. These patients require a protocol utilizing conventional halo (CH) or noninvasive pinless halo cervical stabilization to prevent restriction of TMJ ROM caused by prolonged cervical collar use. Without limitation of the TMJ, condylar fracture rehabilitation and healing may proceed unhindered.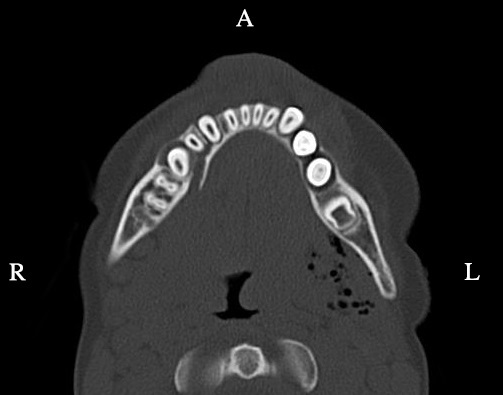 ---
Back to 2020 ePosters